HOW CAN FOREIGN APPLICANT REQUEST PATENT FEE REDUCTION IN CHI

2021-04-28

Borsam IP
Since the outbreak of the Covid-19, many companies have faced operating difficulties, and most of them choose to cut wages and layoff, and reduce expense etc., to reduce operating costs. For companies with a large number of patent applications, start-ups and individuals, patent official fees are a huge expenditure. In order to reduce the burden of patent application and maintenance for enterprises and individuals, the Chinese government provides an official fee reduction policy for applicants who meet the relevant conditions, which can reduce the official fee by up to 85%, thereby greatly reducing costs.
 
Please note that this applies not only to applicants of Chinese nationality, but also to foreign applicants. The following will help you understand the relevant provisions of the patent fee reduction policy and and how to request for fee reduction.

1. What are the requirements for requesting fee reduction?
Patent applicant or patentee should meet one of the following conditions:
1) Individuals: The average monthly income of the previous year was less than 5,000 RMB (annual income was less than 60,000 RMB).
2) Enterprise: The taxable income of the enterprise in the previous year was less than 1 million RMB.
3) Public institutions, social organizations, and non-profit scientific research institutions.
Where two or more individuals or entities are joint patent applicants or joint patentees, they shall meet the provisions of the preceding paragraph respectively.
 
2. What fees can be reduced and how much can be reduced?
2.1 Applicable fees
1) Filing fee (excluding the publication fee and filing additional fee)
2) Substantive examination fee,
3) Annual fees (ten years' annual fees from the year in which a patent right is granted)
4) Reexamination fee
 
2.2 Reduction ratio
Where the patent applicant is an individual or an entity, the prescribed fee shall be reduced by 85%. If two or more individuals or entities are joint patent applicants, the prescribed fee shall be reduced by 70%.
 
2.3 Fee details (the following fees are in RMB)

1) Filing and examination stage

2) Grant stage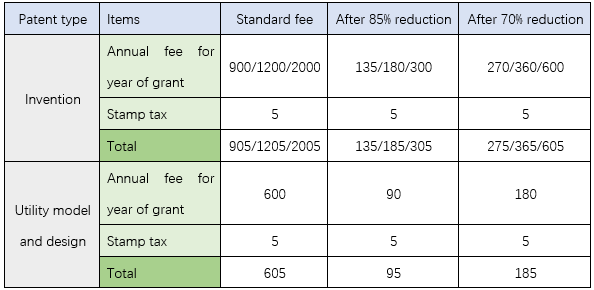 3) Maintenance stage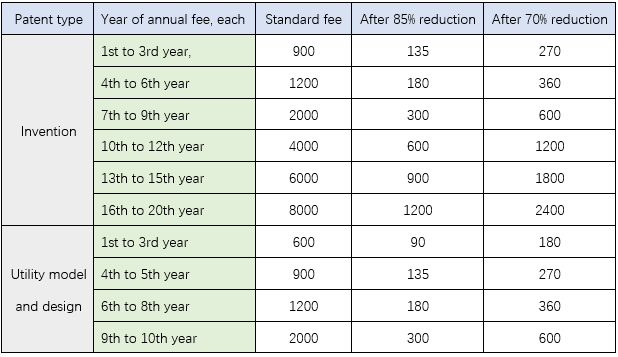 3. How to request for fee reduction and what are the required materials?
3.1 Process
1) Filing record in the patent fee reduction record system (i.e., proving that you meet the conditions of the fee reduction);
2) Waiting for the record review result;
3) After passing the review, filing a fee reduction request for the patent application.
 
3.2 Materials required for fee reduction record
The following materials shall be provided according to the type of the patent applicant or patentee:
1) Individuals:
a) A copy of identification document (such as passport or ID card of the country of origin) with his/her signature;
b) A copy of annual income certificate issued by the employer; if he/she does not have fixed job, the official certificate on the financial difficulties;
2) Enterprise:
a) A copy of certificate of incorporation or other similar documents of enterprise with the enterprise's seal;
b) A copy of the annual corporate income tax return of the previous year with the enterprise's seal; (new enterprises established in the year of record do not need to provide this)
3) Public institutions, social organizations, and non-profit scientific research institutions:
a) A copy of legal person certified materials affixed with their official seal.
 
Note:
If you are a foreign applicant, the above documents are best to be notarized and legalized, otherwise the record review may not be passed;

No original copy is required, a scanned copy is sufficient;

If the materials are not in Chinese, they don't need to be translated into Chinese completely, you can only explain the important information (ID number, income amount/taxable income) in Chinese.
 
4. What else should you pay attention to before processing fee reduction request?
4.1 Deadline
Patent applicant or patentee can only request reduction in fees that have not yet expired. The request for reduction of filing fee shall be filed when filing the patent application, and the request for reduction of other fees may be filed when filing the patent application, or 

two and a half months

 before the expiry date of the relevant fee payment deadline. If the fee reduction request is not submitted within the prescribed time limit, no fee reduction will be allowed.
 
4.2 The filing fee and substantive examination fee for Chinese national phase application of PCT application are not applicable to this fee reduction policy.
 
4.3 In theory, you need to file the reduction record every year, but only the first time you need to submit materials, and then you only need to submit a record request.
 
Although the official fee is only a small part of the expenditure compared to the agency fee, for companies or individuals with financial difficulties, if the fee reduction policy is used, it can still reduce a lot of costs and relieve certain economic pressure.